WELCOME TO THE CLAN FRASER SOCIETY OF SCOTLAND AND THE UNITED KINGDOM WEBSITE
I would like to welcome fellow Frasers and members of its Septs to the website of this great Society. We're very proud of this achievement and the hard work that's gone into keeping this great Fraser Society going since Susan Boag founded it, with the support of the Chief, Lady Saltoun, over a decade ago. Since then we've moved on, with new technology, the website, built by Giles Fraser, has been up for several years and as well as printed Newsletters, our members receive regular Eletters.  We try to combine an interest in Fraser history, see The Fraser Connections Pages (pages on places for Frasers to visit) and for genealogy, view the section, The Don Fraser Page.
If you haven't already joined us please do so and see what you've been missing out on. There's an easy printable joining form or if you want to give a Fraser relation a present they'd enjoy, buy them a year's subscription. Now you can buy many Clan related gifts including membership in our new Website Shop. Graeme B Fraser
ABOUT THE CLAN FRASER SOCIETY OF SCOTLAND & THE UK
This society aims to bring people together, both those who possess Fraser ancestry, and those interested in the history of the Clans in general. There is also a strong aspiration to promote social gatherings of a sort  that everyone is likely to enjoy, and again we are open to suggestions!  At the present moment the editor of the society is Graeme Fraser, presently living in Nottingham and the treasurer, events and membership secretary is Donald Fraser-Clark from Lancashire, all the contact addresses are listed in the contact pages, where you may also add your email and or website address, by contacting the webmaster, who is also listed there.  You may send any articles for inclusion in the newsletter or website to any of these people.

Society Officials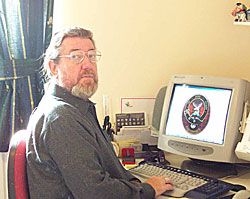 The Editor, (right) Graeme and The Treasurer, Secretary and Events Secretary of The Society  (left) Donald.
The Purposes Of the Clan Fraser Society
1. To bring together people possessing Clan Fraser ancestry.
2. To collect and preserve literary, historical and genealogical records relating to Clan  Fraser in Scotland.
3. To hold social gatherings.
4. To promote and develop interests in Clan Fraser.
5. To co-operate with similar societies in other countries.
6. To do all such other things as are conducive or incidental to the attainment of the above objectives, including the regular publishing of a newsletter.
All content on this website is the copyright of CFSSUK © unless otherwise stated