Don Fraser was a member of ours who, sadly, passed on a few years back and the Society greatly misses the contribution he made. Don's particular skill and interest was genealogy, and he helped many people solve problems, and climb over the proverbial "brick wall" when their researches seemed unable to go any further. We've never been able to replace him and we hope this page is fitting testimonial to the work he did, the encouragement he gave and the interest he had in genealogy. With this page we hope to give our members some help in their researches by pointing them in the direction of some excellent sources of help and information and expand their interest in genealogy, which we feel is so important to this Clan Society.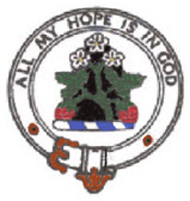 CREST BADGES-OUR RIGHT TO WEAR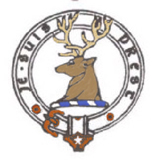 THEM
Members of a Clan are in a unique position in the world, with their right to wear Crest Badges. There is a huge amount of misunderstanding about badges, crests etc and even well known stores, museums, private and government run, both local and national, perpetuate the confusion, by selling items, bearing crests and arms, whose legal sale is quite debateable. To try and make it simple, a Crest Badge is a strap and buckle encircling the Chief's Crest, with his motto on it. Please have a look at our two Crest Badges above and feel proud you're a member of Clan Fraser. For more detailed information on Crest Badges and Flags, go to Lady Saltoun's website.
USEFUL SOCIETIES
ABERDEEN & NORTH-EAST SCOTLAND FAMILY HISTORY SOCIETY
The Society was founded in 1978, is a member of the Scottish

Association of Family History Societies and a registered charity. The Society exists to assist and promote the study of genealogy and family history for the North-East corner of Scotland. This area covers the old counties of Aberdeenshire, Banffshire, Kincardineshire and Morayshire. The Society is based in Aberdeen with its own Members' Centre staffed by volunteers. The Society publishes a quarterly journal, which is issued free to members. Articles of interest are published; also reports of meetings and lectures, and information and enquiries from members. Contributions, new ideas, queries and letters to the editor are welcomed. The Society holds regular meetings throughout the year, covering many topics of interest to family historians. Meetings are held in Aberdeen, Glasgow, Elgin and in the West Midlands of England. Visit the website http://www.anesfhs.org.uk or telephone 01224 646326 or Fax 01224 639096. The Members Centre at 158-164 King Street, Aberdeen, AB24 5BD, is one of the foremost of its kind, in the country.
ASSOCIATION of HIGHLAND CLANS & SOCIETIES
We're now an Associate Members of the Association of Highland Clans & Societies http://www.highlandclans.org/Index.html  and it's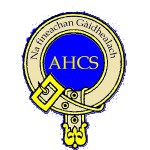 with great pride that we've joined. it's objectives are:
To provide a means whereby the Societies, Associations, or Individuals (Chiefs or Commanders) representing the members of Highland Clans can get together to pursue joint aims, such as:
(i). Sharing experience and expertise relating to the running of clans and clan societies.
(ii). Organising joint clan-related events in the Highlands.
(iii). Representing the Highland Clans in discussions with bodies organising joint clan events outwith the Highlands ….
(iv). Receiving reports from, stimulating discussion about, and requesting action by the representatives of the Highland Clans sitting on other bodies.
(v). Promoting projects that will benefit all Highland Clans.
(vi). Supporting research into and the spread of knowledge about the nature and history of clans in the Highlands, and of the society they were and are a part of.
We're no very pleased to be a part of it.
BORDERS FAMILY HISTORY SOCIETY

Borders Family History Society, covers the Border counties (Roxburghshire, Berwickshire, Selkirkshire and Peeblesshire), in the south-east of Scotland where the first Frasers settled in the 12th century, and some Septs originate from here. Use this site to further your research by recording (free of charge) your surname interests, viewing others' interests, and searching the indexes to our publications for the surnames in which you're interested. http://www.bordersfhs.org.uk/ "Come to the 24th Annual (SAFHS) Conference at Galashiels on 11th May, 2013 – see http://www.bordersfhs.org.uk/BFHSConference.asp"

The Heraldry Society of Scotland was founded in 1977 with the objective of promoting the study of heraldry and encouraging its correct use in Scotland and Overseas. http://www.heraldry-scotland.co.uk/ The Society encourages people to join whether they have their own arms, intend to procure arms, or have a general interest in Scottish Heraldry. Our membership is made up of people from around the globe with many meeting regularly in the Society's very active Community Forum. Meetings are held several times during the year for lectures or visits to places of historic and heraldic interest, both in Scotland and in other countries. The Society is privileged to number many of Her Majesty's Officers of Arms among its members and a close liaison is maintained with The Court of the Lord Lyon. Many thanks to the HSS for allowing us to use this material. http://www.heraldry-scotland.co.uk/
THE HIGHLAND COUNCIL ARCHIVES
The Highland Council Archive is responsible for locating, preserving and making accessible documents and other records relating to the history of the Highlands. Within Inverness Library there is a reference room dedicated to Family History Research.  Here, the extensive collections of materials, which can be of assistance to anyone carrying out family history research, are available. For more information on Family History see The Highland Council's website  or go direct to the archive site http://www.highlandarchives.org.uk
HIGHLAND FAMILY HISTORY SOCIETY
The Society is based at the Highland Archive Centre.


Functions of the Society: The Society was set up in September 1981 to promote the study of genealogy, family history and related subjects in the Highlands of Scotland. It aims to do this in a number of ways:
1. Regular monthly meetings are held in Inverness on the 4th Tuesday in each month from September – April, with speakers on topics of interest to family historians:
2. A quarterly Journal is published to keep members informed of developments within the Society and the field of genealogy in general; to publish articles of interest and reports of the monthly lectures; and to publish specific research enquiries from members. In addition we are able to carry out limited research for members only where costs will be confined to postage and any photocopying. All requests for photocopying from, for example, census returns on microfilm, should be addressed to Library staff not the Society:
3. Members' Research Interests are held on computer from which a Register is printed on a regular basis. The current issue was published in May 2001. This forms a useful record of the genealogical work being carried out by the members. Use of such directories – local, national and international – helps to co-ordinate research and avoids duplication of effort:
4. A collection of reference material has been established, and donations of books, manuscripts etc., are welcomed. Members are encouraged to deposit copies of their own family histories, family trees or pedigree charts. A number of projects are underway, such as the recording of monumental inscriptions and indexing a number of the 1851 Census Returns.
5. We have also collected together in the library the census returns for all the counties that we cover – Caithness, Sutherland, Ross & Cromarty, Inverness, Nairn and North Argyll. We now have the full set from 1841 to 1891 inclusive. 1901 census is now available in the Reference room at Inverness Library. Microfilm of the Old Parochial Registers for the latter six counties is also available at Inverness, through the Library Service. We have recently obtained the 1881 census for England, Scotland and Wales on CD-ROM and it is loaded on the Society's computer. We have also purchased the microfiche index to the 1891 Census for the whole of Scotland. The latter two indexes are available only to members of the Society.
WE DO NOT ACT AS A RESEARCH AGENCY. The Society is keen that, wherever possible, its members do their own research. A visit to the Inverness library, where the archivist for the Highland area is also in residence, is particularly recommended. If you cannot come in person and require significant research to be carried out on your behalf, you should contact either Alistair Macleod, Genealogist in Residence, Reference Room, Public Library, Farraline Park, Inverness IV1 1NH or The Secretary, The Association of Scottish Genealogists and Record Agents (ASGRA), 51/3 Mortonhall Road, Edinburgh EH9 2HN – Website: www.asgra.co.uk Charges will be made for their services.
If you wish to obtain copies of Birth, Marriage or Death Certificates, you should write to either the Registrar in the District in which the event was registered or to New Register House in Edinburgh.
HOW TO JOIN THE SOCIETY Details of how to join the Highland FHS and a full list of their publications will be found on the website http://www.highlandfamilyhistorysociety.org/
 THE AULD ALLIANCE
Scotland's historic connections are ancient and at times were very close, with the changes in religion and the Union of Parliaments, they eventually declined but to this day there is still a special relationship between Scots and French. Below are details of two of the Societies, operating in the Historical shadow of "The Auld Alliance", as it is called, who we have dealings with.
The Alliance France Ecosse, who were formed to preserve the spirit of the Auld Alliance, between Scotland and France. They have been involved with the preparation of 2 books on Franco- Scots history and to date 9 memorial plaques have been placed throughout France to commemorate Scots who have assisted France throughout the ages, such as the one to John Stewart of Darnley, Constable of Scotland, in Orleans Cathedral. He was killed in 1429 in the 100 Year War, against England. The latest was unveiled in Marseille, to commemorate the fact that Donald Caskie (Scots minister, nicknamed the "Tartan Pimpernel") saved over 2000 allied servicemen, via that town in World War 2, from Nazi clutches. They are an independent French Loi 1901 association, non-religious, non-political and self financed. President is Julian Hutchings, Alliance France-Ecosse, La Maison des Associations (Siège), 46 ter, Rue de Sainte-Catherine, 45000 Orléans, France. Tel 00 33 238444532. La Route des Ecossais on the site is well worth a look. Website http://www.alliance-france-ecosse.com Email 
THE ASSOCIATION FRANCO-ECOSSAISE
The Association Franco-Ecossaise is the oldest (over a century) and, I believe, the largest of the Franco-Scottish associations in France, but of course it is not the only one. Its membership is largely based in Paris, while some associations such as Alliance France-Ecosse have stemmed in the "provinces". We already have some French clan associations on our page "Contacts et addresses utiles"  website http://www.franco-ecossaise.asso.fr Best regards. Jean-Didier Hache Email
We would like to thank all the above Societies for their help in providing this information. 
OTHER USEFUL SITES
CFSSUK Editor's Own Site, Links Page: http://www.graemefraser.net/links.html
Electric Scotland, Fraser  http://www.electricscotland.com/webclans/dtog/fraser.html
IGI Family Search: https://www.familysearch.org/
Genes Reunited Family Tree Site: www.genesreunited.com
RootsWeb, Fraser Section Mailing: http://lists.rootsweb.com/index/intl/SCT/CLAN-FRASER.html
SAFHS: Scottish Association of Family History Societies:  http://www.safhs.org.uk/
Scotland's Records : http://www.scotlandspeople.gov.uk
Scottish Documents: http://www.scottishdocuments.com/
Scottish Eletter, Scottie: http://www.rampantscotland.com/letter.htm
Scottish Genealogy Society: http://www.scotsgenealogy.com/
Scottish Tourism: http://www.visitscotland.com/
UK Records: http://www.documentsonline.nationalarchives.gov.uk
All content on this website is the copyright of CFSSUK ©