It is generally believed that the name Fraser traces back to origins in the French Provinces of Anjou and Normandy. The name is said to derive from the French word for Strawberry ("Fraises") and the Fraser arms are silver strawberry flowers on a field of blue. The Frasers first appear in Scottish History in 1160 in East Lothian, and are then said to have moved into Tweedale in the 12th and 13th Centuries and then to Stirling, Inverness and Aberdeen.
Sir Simon Fraser was Captured fighting for Robert the Bruce, and put to death by Edward 1 in 1306. The Fraser Clan subsequently divided into distinct branches, including the Frasers of Philorth, Lovat and Muchals amongst others.
It is a natural urge to trace ones ancestry, and the history of those that preceded you in the family line. People have discovered that family history can be both fascinating and surprising, and secondly that it can be frustrating and consume a vast amount of time!
The Clan Fraser Society of Scotland and the U.K. was formed to help people and to bring them together in their researches and to provide a common platform from which to work.
EARLY HISTORY OF CLAN FRASER
They first appear in Scotland around 1160 when Simon Fraser made a gift of a church at Keith in East Lothian to the monks at Kelso Abbey. These lands eventually passed to a family who became Earls Marishal of Scotland after adopting Keith as their name. The Frasers moved into Tweedale in the 12th and 13th centuries and from there into the counties of Stirling, Angus, Inverness and Aberdeen. About five generations later, Sir Simon Fraser (the Patriot) was captured fighting for Robert the Bruce, and executed with great cruelty by Edward I in 1306. The Patriot's line ended in two co-heiresses; the elder daughter married Sir Hugh Hay, ancestor of the Earls of Tweedale, and the younger married Sir Patrick Fleming, ancestor of the Earls of Wigtown. Sir Andrew Fraser of Touch-Fraser [d.1297], cousin of the Patriot, was the father of Sir Alexander Fraser of Cowie [ancestor of the Frasers of Philorth], Sir Simon Fraser [ancestor of the Frasers of Lovat], Sir Andrew Fraser and Sir James Fraser of Frendraught. Sir Alexander was killed at the Battle of Dupplin in 1332 and his three younger brothers were killed at the Battle of Halidon Hill in 1333.
FRASERS OF PHILORTH – Lords Saltoun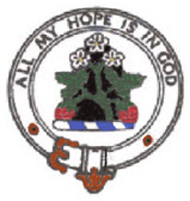 The Senior line is descended from Sir Alexander Fraser, who took part in the victory at Bannockburn in 1314. In 1316 he married Robert the Bruce's widowed sister, Lady Mary, who had been imprisoned in a cage by Edward I. Sir Alexander was appointed Chamberlain of Scotland in 1319, and his seal appears on the letter to the Pope dated 6th April, 1320, known as The Declaration of Arbroath, seeking recognition of the country's political independence under the kingship of Robert Bruce. Sir Alexander's grandson, Sir Alexander Fraser of Cowie and Durris, acquired the Manor Place (later to become Cairnbulg Castle) and lands of Philorth by marriage with Lady Johanna, younger daughter and co-heiress of the Earl of Ross. According to a prophecy of Thomas the Rhymer: While a cock craws in the north, there'll be a Fraser at Philorth. Several generations later, Sir Alexander Fraser, 8th laird of Philorth [c.1536-1623] founded Fraser's Burgh by Royal Charters obtained in 1592 and built Fraserburgh Castle (now Kinnaird Head Lighthouse). His eldest son, Alexander Fraser, 9th laird of Philorth [c.1570-1636) married in 1595 Margaret, heiress of the Abernethies, Lord Saltoun. In 1668 their son, Alexander Fraser, 10th of Philorth [1604-1693] also became 10th Lord Saltoun. The present Chief of the Name of Fraser is Flora Marjory Fraser, 20th Lady Saltoun, who was an active member of the House of Lords till her retirement.
FRASERS OF LOVAT – Lords Lovat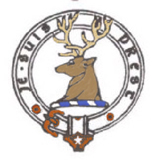 The Frasers of Lovat descend from Sir Simon Fraser [brother of Sir Alexander the Chamberlain] who married Lady Margaret Sinclair, daughter of the Earl of Caithness. Documents dated 12th September, 1367, connect a Fraser with the lands of Lovat and the Aird. Among the lands acquired by the Lovat Frasers, the prominent ones were in Stratherrick, which was very dear to the hearts of the Lovat chiefs, the church lands of Beauly Priory in Inverness-shire, part of the south shore of Beauly Firth and the whole of Strathfarrar. About 1460 Hugh Fraser, 6th Laird of Lovat [c.1436-1501] became the 1st Lord Lovat. Several generations later, Hugh Fraser, 9th Lord Lovat [1666-1696] who had four daughters but no son, willed his estates to his grand-uncle, Thomas Fraser of Beaufort, instead of his eldest daughter, Amelia [1686-1763] Thomas Fraser's second son, Simon, later 11th Lord Lovat, had planned to marry the Lovat heiress, Amelia, but the plan failed, and in retaliation, Simon forcibly married her mother, the dowager Lady Lovat (the marriage was later annulled.) The 11th Lord Lovat "The Fox" plotted with both Government and Jacobite forces, and was the last nobleman to be beheaded on Tower Hill, London, in 1747. The Lovat title was attained by an Act of Parliament, and the estates forfeited to the Crown. In 1774 the forfeited lands were restored to his eldest son, Lt-General Simon Fraser, Master of Lovat, but not the title. The original line ended with the death in 1815 of the Master's younger half-brother, Archibald, without legitimate surviving issue. The estates passed to the nearest collateral heir-male, Thomas Alexander Fraser, 10th laird of Strichen, Aberdeenshire, who in 1837 was created Baron Lovat in the Peerage of the U.K, and the attainder of the Scottish title was reversed in 1857, when he became 14th Lord Lovat. With the death of the 17th Lord Lovat in 1995, aged 83, his grandson, Simon Fraser, born in 1977, became the 18th Lord Lovat and 25th MacShimi, the Chief of the Clan Fraser of Lovat. ARMS Fraser: Azure, 3 fraises or cinquefoils argent Fraser of Lovat: Quarterly 1st & 4th azure, 3 fraises or cinquefoils argent 2nd & 3rd argent, 3 antique crowns gules.
CLAN SEATS – Cairnbulg Castle
The castle is one of the oldest buildings in Aberdeenshire still to be inhabited by the family who built it, whose home it is and is of great interest to students of mediaeval Castles and architecture. Originally in Comyn hands it suffered a history of destruction and rebuilding and came under Fraser control in the late 14th century, Sir Alexander Fraser, 8th of Philorth, sold it to Fraser of Durris in 1613, it then went to Fraser of Muchalls but in the early 18th century, ownership of the castle went outside the clan. However, in 1934 the late Lord Saltoun, 11th of Philorth, bought it back and modernised it, he later gave it to his daughter, the present Lady Saltoun, chief of the name of Fraser and now is owned by her daughter, The Hon. Mrs. Nicolson. The castle is open to the public, to make an appointment, write to her at Cairnbulg Castle, Fraserburgh, AB43 8TN.
BEAUFORT CASTLE – Beauly
For centuries it was the seat of the Frasers of Lovat, it's now in private hands but there are views of the Castle from tracks nearby. Destroyed by fire in 1938 and rebuilt, unfortunately many family portraits and treasures were also destroyed in the fire. It incorporates the remains of Castle Downie, which was also destroyed by fire, then it was burnt by Hanovarian troops in 1746.
CREST BADGES
Fraser: On a mount a flourish of strawberries, leaved and fructed proper. Fraser of Lovat: A buck's head erased proper.

MOTTOES
Fraser: All my hope is in God.
Fraser of Lovat: Je suis prest (I am ready)
PLANT BADGES  Yew. (Fraser of Lovat) Strictly speaking Fraser  doesn't have a plant badge but is strongly connected to the strawberry flower.
MAP OF THE ORIGINS OF THE CADET BRANCHES OF THE CLAN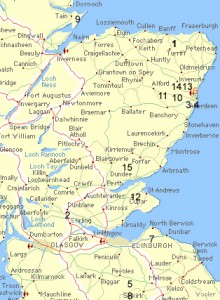 1) Forglen 2) Touch Fraser 3) Durris  4) Cowie 5) Drumelzier 6) Fraserfield (Not on map) 7) Hales 8) Oliver Castle 9) Tain 10)Findrack 11)Tornaveen 12) Makinch 13) Fintry 14) Tulifom (Tillyfome) 15) Hospitalfield. Click maps to enlarge.
We've long believed this map only skims the surface of the Cadet branches and with the help of Lady Saltoun, we've now produced a map detailing where some of the families around the Fraserburgh area came from. One thing is for sure, the history of the cadet branches is not an exact science and we can only give you a rough guide here.
Some of the names aren't too clear on the map, therefore we've made a list of them going from East to West to help. Castle of Inverallochy, Cairnbulg Castle (Clan Seat), Mains of Park, Buchts, Milltown of Phingask, Memsie, Mains of Forest, Pittulie, Techmuiry, Castle of Pittulie, Strichen, Tyrie Mains, Strichen House (ruin).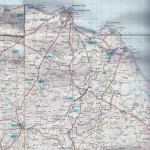 Families descended from the Philorth line are of Ardglassie, Durris, Findrack, Forglen, Forest, Fraserfield, Hospitalfield, Lonmay, Memsie, Park, Quarrelbuss, Rathillock, Techmuiry, Tornaveen, and Tyrie, and the Frasers in Finland. Except for the Finnish Frasers almost all the cadet branches of the Philorth line are, as far as is known, extinct. Extract from Clan Fraser by Lady Saltoun.
We have produced a similar map for Fraser of Lovat but can't reproduce it because of copyright laws, however, if you have any queries about a particular branch contact the editor and he'll try to help. Below is a list of names (they don't necessarily tie in with the other lists) so let the editor know what name or page you're interested in and we'll see what can be done.
A guide to which picture has which place or cadet branch.
(Page 2) Culbokie, Brae Park, Munlochy, all on the Black Isle.
(Page 3) Munlochy, also on (2). Phopachy, Castle Heather, Culduthel, all around Inverness.
(4) Wester Balloan, Easter Balloan, both NNW of Beauly. Inchrory, Beauly, Balblair house, Kingillie House, Achnagairn, Dunballoch, Kiltarlity Cottages, Moniack Castle, Reelig House, Beaufort Castle (traditional clan seat), Fanellan, Belladrum, Eileanaigas House, Teanacoil, Kiltarlity, Culmill, Kineras, all South of Beauly.
(5) Eileanaigas House and Kinerass, both mentioned in (4). Eskadale House and Ardochy, both SW of Beauly.
(5a) Struy, is just west of where the river Beauly forms and West of Eskadale house.
(6) Erchite Wood, Easter Erchite, Wester Erchite, Bochruben, Abersky, Leadclune, Farraline, Gorthleck House, Lyne of Gorthleck, all on the East side of Loch Ness. Foyers is West of Gorthleck and on page (7).
(7) Balnain, to the West of Drumnadrochit and Foyers, on the East of Loch Ness.
(8) Balnain, already mentioned on page (7) and to the North, Eskadale, Boblainy and Clunevackie.
Frasers of Balnain, there now seems to be evidence that they originated on the other side of Loch Ness with Balnain referred to as Wester Leadclune or Balnabeeran.
(9) Guisachan, is about 16 miles SW of Drumnadrochit.
Families of the Lovat line are of Aberchalder, Abersky, Achnagairn, Ardochy, Balnain, Balloan, Belladrum, Boblanie, Bochrubin, Brae, Bught, Castleleather, Cleragh, Clunevackie, Culbokie, Culduthel, Culmiln, Dromdoe, Erchitt, Errogie, Eskadale, Fairfield, Farraline, Fingask, Foyers, Guisachan, Golford, Gortuleg, Inverallochy, Kiltarlity, Kinneries, Knock, Kyllachy, Leadclune, Merkinch, Moniack, Muilzie, Reelig, Ruthven, Strichen, Struy and Teanakyle.
Extract from Clan Fraser by Lady Saltoun.
All content on this website is the copyright of CFSSUK ©