71st FRASER'S HIGHLANDERS
Around 2009 my husband Noel Briggs and myself, were faced with an unusual request from the Mayor of Cheraw, a small, historic town in South Carolina.  He asked us to try to establish the names of several unknown Scots soldiers, from the 71st Fraser Highlanders, who are buried  in the local graveyard of Old St David's, the last Anglican Church in America to be granted its Charter by King George III.
Our research took us to Museums and Archives in both Scotland and England, when we were home visiting family; and too many more across the southern states of the USA. We were generously aided by several experienced researchers and historical authors, who we were lucky enough to make contact with, to the extent that many of these have become good friends. But, also, inevitably, the internet enabled me to access prime documents, letters and in particular, some contemporary, less well known books. These proved to tell much more of the story of these soldiers, than had been known previously. Stephanie Briggs
Below is their story and the story of the 71st Fraser's Highlanders. 
71st Fraser's Highlanders Click for Full Story & Booklet
Their story is also on a bronze Marker which has now been erected in the churchyard of Old Saint David's, Cheraw, South Carolina, unfortunately, there are no records of the names of the two officers and the several men who died there. However, each grave now bears a granite Headstone remembering these unnamed men," known only to God" who died in the service of their King and country, far away from the Highlands of Scotland.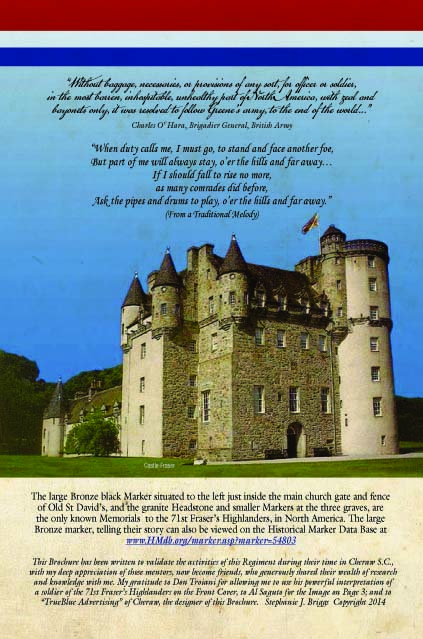 71ST FRASER HIGHLAND REGIMENT by Ed Brumby
The 71st Fraser Regiment was raised by Major General Simon Fraser of Lovat in December 1775 to fight in The American war of Independence. The Duchess of Gordon, at Fochabers in Moray, was an active recruiter for her brother Captain Hamilton Maxwell. This was long before her famous "kiss and a shilling" for the recruits of the Gordon Highlanders. 2000 men were raised by officers from many clans and sailed along with the 42nd Regiment from Greenock in April 1776. About 500 men, together with their officers were captured off Boston and spent up to nearly two years in captivity, some working for American families.
The war would see the 71st fighting in New York, Pennsylvania, Georgia, South Carolina, North Carolina, finally being defeated at Yorktown Virginia. The kilted warriors had to endure a variety of climates, mainly hot, and on occasions had to abandon their beloved plaids for trousers. They gained a fearsome reputation and the "skirl of the pipes" was feared by the French who assisted the Americans at Savannah.
Some men chose to settle in Nova Scotia and nearby northern areas. Some deserted, and some finally made it home to Perth.  Those who had been wounded were judged by The Chelsea Board to see if they warranted assistance. It is sad that the 71st Regiment seems to have been forgotten in the history of Scotland, indeed it is seldom mentioned.  Hopefully this book "71st Fraser Highland Regiment in the American War of Independence" will address that issue. My book is on sale via Tain Museum, it is £12 plus postage. I am trying to support them as they seem to be the only museum etc in Scotland who are really interested in the 71st.
Now in its second edition, as well as Tain Museum it can be purchased on Amazon UK or for overseas buyers, directly from the author on edbrumby@btconnect.com
All content on this website is the copyright of CFSSUK ©