GUELPH UNIVERSITY
With the demise of the Clan Fraser Society of Canada, a few years ago, all of its huge amount of records and some finance were gratefully received by Guelph University. However, due to the work involved and Covid everything seemed to go onto the back burner but now, we're delighted to be told by Kevin James, Director of The Office of Scottish Studies at the University, the records are now available for access.
"The collection has been accessioned into Special Collections and is available to consult there at McLaughlin Library. I have copied in Ashley Shifflett-McBrayne, our wonderful librarian there, so you and any others who would like to consult the material can contact the unit and arrange an appointment to see and use the materials."
The work Neil and Mary Fraser put in for the CFSC and the clan was phenomenal, I was delighted to hear the documents were being passed on to Guelph University and now access is open to all.
NEWS FROM, St MARY'S, ESKADALE
On the 12th of June 2022 the restoration of St Mary's Eskadale, resting place of the Clan Fraser chiefs since 1827, was finally complete. Mass was given by the Bishop of Aberdeen, followed by an opening ceremony in the summer sun in front of the church, music and whisky aplenty.
CASTLE FRASER EVENTS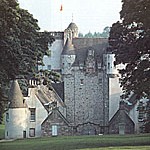 Red Run: 1st May A 5k run around the castle's trails. This event will include fundraising for Castle Fraser for maintenance following storm damage. Runners can enter through: https://resultsbase.net/event/6216?fbclid=IwAR25VcCYflurapOliA6lG9jn-aCUeLWTe8iHZRBWBP0By1i-9xYdgC4ppeE
Bon Accord Steam Engine Club's Steam Fair: 18th & 19th June. BASEC are returning this year with their annual Steam Fair. Having been postponed due to Covid, the Steam Fair will be returning bigger than before. With exhibitions and showcases of the best of steam and vintage vehicles, fun fair rides, stalls and a catering village, it is certain to a great day out for all the family.
Castle Fraser's History Weekend: 25th & 26th June. Northern Alliance Re-Enactment group are re-joining us with music, longsword and archery displays as well as various living history demonstrations such as weaving, bow making and armoury displays. Within the castle there will be a showcase of our swords and armoury as our collections care team clean them as well as other collection showcases.
Folksy Theatre: Folksy Theatre will be joining us with an evening performance of Much Ado about Nothing on 10th July and a matinee performance of Alice in Wonderland on 16th July. Both performances will be outdoors and tickets are available through their website: https://folksytheatre.co.uk/
Aberdeen Performance Car Show: 7th August. Previously known as Full Throttle, will be returning this August. It's a static car display show with children's activities, stalls, catering village and stunt shows. The castle will be open at a discounted price on this day.
Gungho: 20th August. 5k Inflatable Obstacle Course.
Halloween Garden Trail: 24th-30th October. We will be running our Halloween Garden Trail for a full week this October. This will include fun Fairytale themed decorations throughout our garden and grounds. Children to follow the trail to win a spooky goody bag prize. Ticket sales will open later in the year on Eventbrite; booking will be essential.
Wreath Making: 3rd & 4th December. Our Garden Team will be holding our annual Wreath Making Workshops again this December. It is a full day workshop using foliage gathered from across our grounds to make a stunning Christmas Wreath. The workshop will be ticketed through Eventbrite with ticket sales opening later in the year. Ticket price will include lunch and hot drinks throughout. Kind regards, Shona Collie, Visitor Services Supervisor – Castle Fraser
Many thanks to Castle Fraser for letting us have this information, we had a delay and missed the Easter events but there's a lot on this year and it seems back to normal. If there's no event the castle is wonderful, so check the times and have a visit. Castle Fraser | National Trust for Scotland (nts.org.uk)
A Blythe Yule an a Guid Hogmanay or Nollaig chridheil agus bliadhna mhath ùr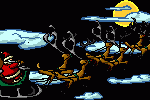 St Mary's is the family church of the Frasers of Lovat, which contains the burial ground of Clan Fraser Chiefs including Simon Christopher Joseph Fraser, the 17th Lord Lovat and war time Commando leader together with the current Lord Lovat's father, the Master of Lovat.
The church has undergone a major renovation costing £600,000 to make the building watertight and upgrade it in all respects. However, as Lord Lovat told has us, drying the building out caused a problem with dry rot which is now going to cost a further £35,000 to overcome. He says that a new fund raising campaign had started and I am pleased to say that the CFSSUK has given £100 to the cause. This was sent to Jessie Matheson, Secretary of the Eskadale Church Restoration Fund SCIO. If anyone would like to contribute directly they can do so by sending donations to Jessie for the above fund at Cherry Trees, Kiltarlity, Beauly, IV4 7JQ. Jessie has said that should members be in the area she would be pleased to show them round St Mary's.
Here's a couple of relevant websites that may interest you.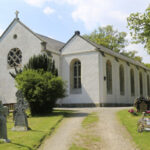 MEMBERSHIP OFFER
"We don't do Black Friday but we will extend this offer to December 1st, nice Xmas present present for a Clan Member.
Join the CFSSUK between now and mid-November, that's only £10 for those in the UK and get next year free, that's April 2022 to April 2023 completely free."
CLITHEROE EVENT CANCELLED
25th & 26th September 2021
As you know we had our next week end event all set up based on the Scottish Battles that took place in the Clitheroe and Preston area.
However we have not attracted enough Clan members to make the event viable and so we are forced to cancel it.
This could be due to an on-going fear of Covid, which is quite understanable and if this is the case we can look at the event in the future, when things are back to normal.
Donald
It is such a shame Donald has had to cancel, it's a great idea and a lot of work has been put in to get it set up, cancelled and set up again. In the interim some loyal attenders have taken ill, been advised not to travel, or moved to an area not so easy to get from. However, I agree with Donald and the main reason for low take up is the ongoing fear of Covid.
NEWS FROM CASTLE FRASER
Apart from a few functions, our events calendar is pretty quiet this year due to the pandemic. The castle itself is now back to something similar to normality. We are open Friday to Monday, along with the café and shop, and we do not require visitors to pre-book their visit. The gardens are looking at their best at the moment with the fruit and veg finally starting to come through after such a slow start in the cold spring. We are running a children's trail in the grounds for the remainder of the summer as well as a new trail inside the castle. Inside the castle, the portrait of Elyza Fraser has just returned having been cleaned and repaired and it certainly looks much better for it. We are slowly working our way through our paintings since many of them are in need of some repair or cleaning. During this coming winter we will hopefully be starting work on a new project in the castle to improve how we display the wonderful collection and improve the overall visitor experience. We are currently looking at how we can bring the castle to life and make it more interactive for visitors. Alice Matthews, Visitor Services Manager – Castle Fraser Castle Fraser | National Trust for Scotland (nts.org.uk)
CONGRATULATIONS
To Simon & Petra, Lord Lovat and his wife, on the birth of their daughter, Vaila Gianmarina Fraser, on April 30th 2021, at the Portland Hospital, London. We wish them a great and a happy future, nice to have some good news, in these trying times.
ABOYNE GAMES CANCELLED
Sad news, the Aboyne Games is cancelled this year, so Ken Fraser won't be manning the Fraser tent but he'll be back. Visit their website for information.
CLAN FRASER WHISKY
Here's great news for the US from Borders Distillery, we were there last year on one of our Clan Fraser Society Events. Also, in the UK just order it from their shop, it is good whisky, excellent, in fact. https://www.thebordersdistillery.com/s…/clan-fraser-reserve/
Dear Clan Fraser Society, could advise all Society members and friends that Clan Fraser Whisky is now available in the USA? Our importer is heavily involved with the Clan Fraser Society in North America (his name is Clarke Simm). His website is www.clanfraserscotch.com
LADY SALTOUN 90th BIRTHDAY
We'd like to take this opportunity to wish Lady Saltoun a very happy 90th birthday, quite an auspicious occasion and landmark day. Flora Fraser was born on this day, in 1930, in Edinburgh and is the daughter of Alexander Fraser and Dorothy Geraldine Welby. On the 6th October 1956, she married Alexander Ramsay of March, at Fraserburgh but he unfortunately passed away in December 2000. Lady Saltoun is the Chief of the Name and Arms of Clan Fraser, since 1984, by decree of the Court of the Lord Lyon and she was the only holder of a lordship of Parliament who had a seat in the House of Lords as an elected hereditary peer, until her retirement in 2014. We wish Flora all this best today and in the future.
Fraserchief
KIM FRASER
Kim Ian Maurice Fraser, uncle of Lord Lovat and husband of Sarah Fraser, the well known historian and author, passed away on May 30th aged 74. I always found him straight forward and a real gentleman to deal with and I know Donald our Events Organiser also had a lot of time for him. Our thoughts and wishes go to his family from all of us.
GREAT NEWS
A NEW EVENT: You know that we had our 2020 event planned for Montrose. Unfortunately, this has had to be cancelled, though it may be done next year. We therefore thought that later this year, on Sat/Sun 24th/25th October; we could look at an event in the region around Clitheroe and Preston in Lancashire. In 1648 the Duke of Hamilton led a Scottish Royalist army via Lancaster, Clitheroe & Longridge to defeat by Cromwell at Preston, so ending the Second Civil War. In 1651 Charles II led his army to Worcester via this area, including Preston. The 800 Frasers celebrated at our Worcester event were part of that army.
In 1715 the First Jacobite Uprising saw the Jacobites defeated by the Hanoverians, again at Preston, whilst in 1745 Bonnie Prince Charlie rode through this area, including Preston to and from Derby. So this area has a significant Scottish/Fraser connection.
MARIE FRASER
We are sorry to announce the death of Marie Fraser, wife of the late Neil Fraser, of our old Canadian Fraser Society, on April 20th. Marie did some incredible research for Clan Fraser Canada and Clan Fraser and donated it to Centre for Scottish Studies, at Guelph University, Ontario. However, some still exists on Electric Scotland but you may need to scroll down.
DRAM for TARTAN DAY
Here at Clan Fraser we're having a dram of Clan Fraser whisky, or whatever your favourite tipple is at 18:00 UK time on Monday 6th April, to celebrate Tartan Day & the 700th Anniversary of the declaration of Arbroath. Feel free to post your dramming on our Facebook page https://www.facebook.com/Clan-Fraser-Society-Scotland-UK-289100867768686/?eid=ARB8O1fUSwxbyT9EbH3acJunWuBUrMX6JogFlVZhwBhRtdnuyH6EyfpX07wnm4g0FkOARAMAqozJPj6r
NEWSLETTER
We're preparing our March/April Newsletter with the usual amount of interesting Fraser articles, we had thought the virus may defeat us on posting it out but we now feel confident that our UK members will here it physically hit their doormat. Overseas members will probably get it by email in a PDF. So, if you're in the UK join now and get something to cheer you up.
New Article, on our Newsletter page, read now and join now.

LOVAT ESTATES MAPPING
Lovat Estates, here's something fascinating, The Lovat Estate Maps are going online, here's the National Library for Scotland's page on it, I can even see the area where Gtx3 Grandfather was born in 1786, marvellous https://maps.nls.uk/additions.html#67
there's also a BBC news item on it https://www.bbc.co.uk/…/uk-scotland-highlands-islands-47721…
PEEBLES
In looking for information on our October Event in the Borders, we came across this website, it's well researched by an elderly gent, Tony Hope and it covers the early days of the Frasers in Scotland, well before we moved North and became the clan we are. http://www.ajbhope.net/tweedsmuir-parish-history-2/ then scroll down.
NEWS FROM CASTLE FRASER
Unfortunately, the 78th Frasers Highlanders visit mentioned below has been postpones, more news when a new date is fixed.
"Castle Fraser will feature in a link up to Athens, Alabama who are celebrating a 200th anniversary and will be twinning with Stonehaven, one of our local towns. We look forward to welcoming visitors from Alabama next year." Of course, as we all know, Cowie is in Stonehaven. "Next year – We are looking forward to a visit from the 78th Fraser Highlanders from Canada on 4 April 2019." More news on that when we get it.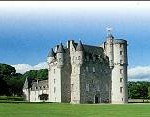 NEXT EVENT, PEEBLES
Following the great success of our Clan visit to Worcester we have now planned a visit Peebles. The date of this event is Sat/Sun 12/13th Oct 2019. We have arranged a private tour of Neidpath Castle, originally a Fraser castle and famous for its connection with Sir Simon Fraser, The Patriot, followed by a Clan Fraser Dinner at the Tontine Hotel, both on the Satuhttp://fraserclan.net/?page_id=37rday. On the Sunday we are visiting the Borders Distillery in Hawick, which markets Clan Fraser Whisky in honour of our clan connection to the Borders.
NEW STAND
We've a new advertising stand, it went down well in its first use at Worcester, then at the Braemar Gathering. Click image to see full size.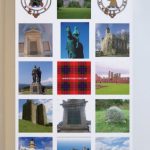 BATTLE of WORCESTER
We made the front page, https://www.worcesternews.co.uk/news/16951749.clan-fraser-return-to-worcester-four-centuries-after-epic-civil-war-battle/ many thanks to The Worcester News for an excellent article.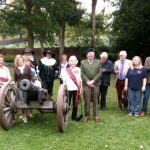 BRAEMAR GATHERING
A great day was had at the Clan Fraser table and the image is the new Games discovery centre.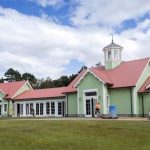 ABOYNE GAMES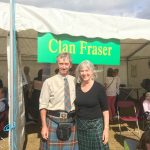 Ken Fraser and his wife had another successful day at the Aboyne Games and the Editor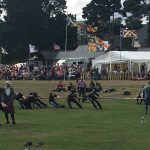 made it too but he wasn't pulling the ropes.
BATTLE of WORCESTER
What an event that turned out to be, many thanks to Donald Fraser-Clark for organising it, our members for coming along, especially Kate, Lady Saltoun's daughter, who missed her own grandson's christening to be there. However, we have to emphasise how much we appreciated the help, cooperation and organisation we had from the Battle of Worcester Society the tour they organised was fascinating and exhausting and the meal in the evening was even more fascinating and exhausting. The full story will be in November's Newsletter, along with some amazing photos, the last time Clan fraser was there they shot at us but this time we were made very welcome.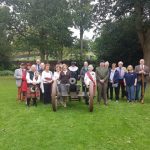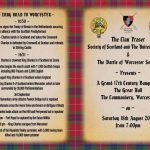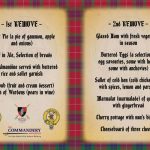 SARAH FRASER
Sarah Fraser's new book, The Prince Who Would Be King, was made in to a BBC TV series, it's been broadcast already but look out for repeats. Read about Sarah and her book on https://www.sarahfraser.co.uk/ There's also a new article in our March Newsletter, which is out soon.
OLD FOX & WARDLAW
We've had address of this website passed on to us, there's some fascinating blogs about the Old Fox and the coffin at Wardlaw. http://wardlawmausoleum.com/uncategorized/open-right-coffin/
CULLODEN COMMEMORATION
Every year on the Saturday nearest the anniversary of the battle, which took place on 16th April 1746, there's a commemoration and wreath laying at the battlefield itself, this year it's on Saturday 14 April 2018. We will be represented this year by one of our members, Julian Hutchings from the Alliance France-Ecosse.
THE FOX
One mystery solved, another starts.
Quote from BBC News
What were believed to be the remains of the last man to be beheaded in Britain are in fact those of a headless woman, forensic scientists have said.
Simon Fraser, 11th Lord Lovat and known as The Old Fox, was executed in London in 1747 because of his support for Bonnie Prince Charlie.
His headless body was taken back to Scotland and placed in a mausoleum near Inverness, according to his clan.
But scientists have found that the bones are of a woman aged 25 to 35 & she could be a Fraser. You couldn't write this story, headless young woman buried secretly in a mausoleum!!! More news will be posted when we have it.
Clan Fraser Visit to the 1651 Battle of Worcester Battle Grounds
& Clan Fraser Dinner
Many members will know that on 3rd September 1651 the last battle of the Civil War took place at Worcester where a 16,000 strong, mainly Scottish army, fought on the side of Charles 1st of Scotland (who, upon the restoration of the monarchy, became Charles 2nd of England) with the aim of restoring the Stuart Kings to their original position.
We believe that many, many Frasers, including a regiment of 800 men under Alexander Fraser, Laird of Philorth and men under another Alexander Fraser, Master of Lovat, took part in the battle.
We have been working with the Battle of Worcester Society and have devised a visit to include a tour of the battle grounds on which the Frasers fought together with an audio-visual presentation of the Battle to be followed by a Clan Fraser Dinner in the Great Hall of the Commandery, the Royalist command centre during the battle.
We plan to hold the event on a Saturday in July or August next year.
We are still at the planning stage and more details will be published in our next full Newsletter. It should be a very interesting and novel day followed by a Clan Fraser Dinner, recent ones which, at The Edinburgh Tattoo and Airth Castle, have been very successful. Watch out for more details in the future and please consider coming along with your families, your children, your friends to celebrate the part the Frasers took in this important battle. Donald Fraser-Clark, Events Secretary.
CASTLE FRASER NEWS
Archaeological event – "Dig the Past"
NTS Archaeologists organised this free event on the lawn in front of the Castle to introduce archaeology to the public. Over 250 adults and children enthusiastically took part over the 2 days and the highlight of the weekend was the discovery of a Tudor period (circa 1570) half a silver coin.
The Holly Tree
Hopefully everyone took part in voting for the Woodland's Trust competition to find Scotland's oldest tree. We put forward our Holly Tree on the East Lawn which to our delight won a nomination and the result will be announced at Holyrood Palace on 6th of December – watch out for the result on the Castle Fraser website.
40th Anniversary of the Castle opening to visitors
We celebrated this occasion by organising a unique "Strip the Willow" record-breaking attempt. Although over 600 people took part, we did not achieve the largest "Strip the Willow" but have applied to set the record for the "longest". This stretched from the Castle all the way down to the bottom of our event field. It was a very successful, happy occasion with people asking us to try again next year – which we will, of course!
THE FOX WARDLAW
We've been in Spain and missed the early parts of this story. You couldn't make it up, we've visited Wardlaw many years ago and know the rumour but it's evolving into fact. http://www.bbc.co.uk/…/uk-scotland-highlands-islands-414831… We await the DNA results with the knowledge they're probably true.
NEW POSITION
We're delighted to announce a new position in the CFSSUK. Donald Fraser-Clark has accepted the new post of Events and Social Secretary, we wish him the best of luck and look forward to working together.
BRAEMAR GATHERING
The Braemar Gathering was a great success, our table was bravely manned by Donald & Ann Fraser-Clark, many thanks for the work you did and glad it was such a great day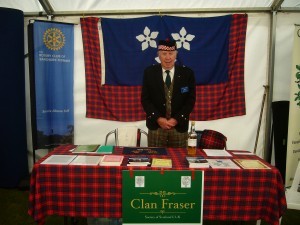 EDINBURGH TATTOO 5th AUGUST
What a day it turned out to be, first our CFSSUK dinner, our walk up the Royal Mile after, then we were met and escorted into the castle itself, the clan chiefs had recently been the first Highlanders ever invited into Edinburgh Castle and here we were following in their footsteps. We had an excellent reception from the Castle Governor and the Head of the Tattoo, a short instruction from the army, as to what we were to do and off we went over the drawbridge and into the arena, for the toast.
We all felt terribly honoured and very lucky to have been part of this occasion and have many memories of it, to see behind the scenes and be part of it, as well, was really something. I'm arranging for CFSSUK members and those who supported us, on the day, to have internet access to all the photos, join us now, if you'd like to see them.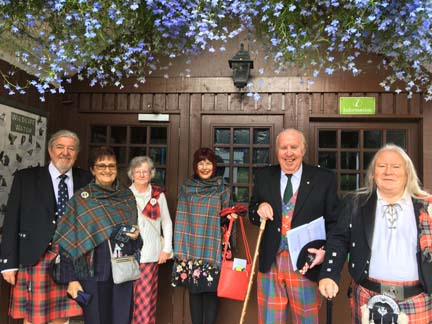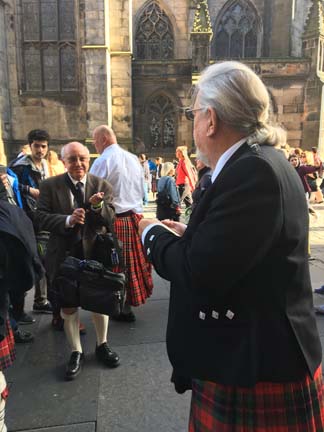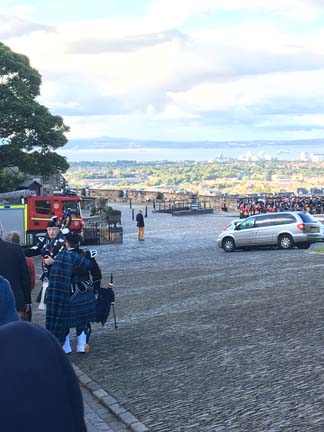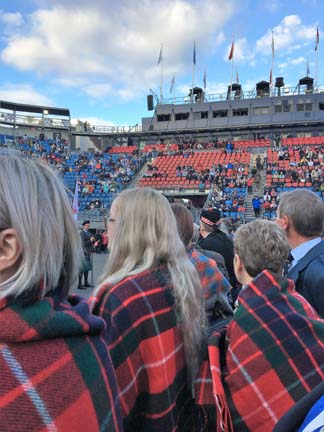 CASTLE FRASER
WORLD'S LARGEST STRIP THE WILLOW
To celebrate our 40th anniversary open to the public, we would like to invite you to join us on Saturday 9th of September 2017 at Castle Fraser (Sauchen) to take part in a Guinness World Record, the Largest Strip the Willow.
We are delighted to announce that STV's Andrea Brymer will be hosting our event along with Iron Broo who will be piping us to success! Our event is being managed and supported by Norman Fiddes (Piper with Turriff & District Pipe Band and Vice President) and Robina Addison (Gordon School of Dancing) both owners of Briky's Country Store in Dyce.
The current record is held by Edinburgh where they danced 1,914 people into the Guinness World Records in the year 2000 and we want to bring this Record to the North East! We know that we can do this, Aberdeenshire but we need YOU. We need people to dance us to success and this is where you come in…
HOW TO REGISTER:
To register please visit our website on: https://nts.cloudvenue.co.uk/stripthewillow This event is open to everyone over the age of 10. For companies, Universities or schools who are keen to use this as a team building experience or those interested in sponsoring our event please contact us directly on castlefraser@nts.org.uk
COMPANY BENEFITS:
We'd like to welcome all companies to take part as this is such a fantastic team building opportunity as well as a great platform to advertise your business. Wear t-shirts and bring banners to celebrate your company, we'd be happy to display them to show our support for your help.
MORE NEWS FROM CASTLE FRASER
Homecoming for Historic Map: An incredible map dating from the 17th century has returned home to the Aberdeenshire estate where it was discovered in the 1980s. The 'chimney map' is now known to be one of only 3 created by Dutch engraver Gerald Valk. It was found in Drumnahoy House, which was, at that time, part of the Castle Fraser Estate.
Family Days Out at Castle Fraser: Our programme of events for the year includes "Game of Clans" – featuring Swordsman & Falconry Displays, "have a go" Archery, a Caber Toss and lots more. Gillebride MacMillan who stars in the Starz "Outlander" series, will be regaling visitors to the castle with traditional Gaelic songs and tales.
Other events – Drystone Dyke courses; Caring for Collectibles; Story telling with Mothers & Toddlers; Bat Survey; Pond Dipping; Wizard School and lots more!
BRAEMAR GATHERING
We're delighted to announce that we will have a presence at the fantastic Braemar Gathering Donald & Ann Fraser-Clark will be in the a floored marquee, called the Overseas tent, for visiting clans, representing the CFSSUK. The Gathering always takes place on the first Saturday in September and this year that'll be the 2nd.
78th Fraser Highlanders Brand New
See our brand new webpage on the 78th Fraser Highlanders in Canada, it's in its own subtab under the History tab.
EDINBURGH TATTOO FANTASTIC EVENT
The Royal Edinburgh Military Tattoo has unveiled the 2017 theme as "Splash of Tartan" taking inspiration from VisitScotland's events for the year, Clan Chiefs have been invited to lead their clansmen to the Castle, on their own special designated evenings, and to take part in the opening ceremony of the Tattoo. In addition, clans and families are being encouraged and identified clan chiefs will take the salute, in front of their clan members. We've been allocated Saturday 5th August 2017 7:30 pm performance (NB there are two performances on a Saturday) and that is a firm date, but unfortunately, our allocation is now on public sale, so the tickets could well have gone, now but a number of us did manage to purchase tickets and are looking forward to this great event.
Donald Fraser-Clark has organised an early Lunch/High Tea come late Dinner on the day, at 16:00 in the Angels With Bagpipes restaurant on the High Street and we'll wander up on mass to the Tattoo afterwards. If you want to join us at that, you're very welcome.
Contact me if you're interested in going, using the Editor email on the Links page.
INTERACTIVE CLAN MAP
A few months ago Lochcarron, the well known Scots tartan and kiltwear company contacted me saying that, they were building an interactive clan and would we be interested in being involved in the process, on behalf of the clan. Of course, I said I would and although I was away a lot, we managed to sort out an entry that we were happy with. It's a very nice pop up map, showing the clans, just enter Fraser or Fraser of Lovat in the search box and information, plus a link to their website, through the tartan in the information box. It's a fun and educational way to find your tartan, have a look at Lochcarron Clan Map
NEWS FROM CASTLE FRASER 2017
We look forward to welcoming friends, old and new, to Castle Fraser this year. It will be 40 years since this beautiful building, garden and estate opened to visitors, courtesy of Major & Mrs. Smiley. Their family continue to take an interest in the Castle and this year we were delighted to receive Col. Charles Mackenzie Fraser's military jackets, on loan, for display in the Castle, which will make splendid additions to Blanche's wedding dress and the replicas of some of the garments which have been disintegrating, These have been replicated by our splendid volunteer, Mrs. Jane Balme. Jane now has an able assistant, Emma Murphy, who also finds time to volunteer in the gardens.
We will be focusing this year on exhibitions/displays in the Castle using archive material. We are presently trying to source some suitable display cases to highlight topics such as the music of Castle Fraser; the titles and bookplates in some of the more interesting books, and featuring the childrens' books published by Mrs. Lavinia Smiley. We also hope to use one of the rooms, currently not in use, to highlight some more of the Smiley family memorabilia. And we are delighted that the SWI will be using this space to host an exhibition for their centenary year.
The second year of our tapestry project is being undertaken by local school children, and we have put together a programme of themes and enthusiasts for the next few years. This year's theme is based on the birds and animals on the estate.
Our Senior Assistant for Functions & Events has put together a busy programme of family events, including a Gin Tasting evening for Mother's Day – highlighting Lavinia Smiley's Orange Gin Recipe!
The money from our Donations Box this year will go towards the continuing conservation care projects, such as renovations to curtains and chair covers. We are very grateful to Judy Lowstutter (Celtic Journeys Tours) who has been bringing small tour groups to the Castle 3 or 4 times a year from the U.S., for giving us a donation towards the cost of electrifying the magnificent Waterford crystal chandelier in the Dining Room. This has been on our wish list for several years and we believe it will help us to lease out this beautiful room for lunch and dinner parties.
Currently the offices and long letting apartments at The Stables at Castle Fraser are empty as the NTS regional office has moved to Crathes Castle. Discussions are underway to maximise on the use of this attractive property to continue to fund the maintenance of the Castle, Gardens and Estate, and a decision is expected shortly.
We re-open for the season on 1 April 2017, closing on 31 October and expect another busy year, with visitors from around the world. It is always exciting to meet Frasers from overseas, and the UK, who feel they have a connection to the Fraser family.
PICTURES FROM A CFSSUK WREATH LAYING
CFSSUK WREATH LAYING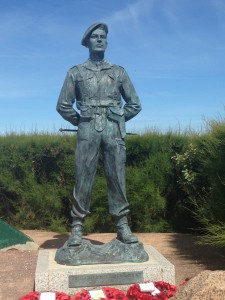 Donald Fraser-Clark, of the Society, along with his wife Ann, organised for two wreaths to be laid with the CFSSUK badge on them, at the statues of Lord Lovat and his piper Bill Millen, at D-Day's Sword Beach, near Oisterham, Normandy. This took place in 2014 with the Mayor of Oisterham present.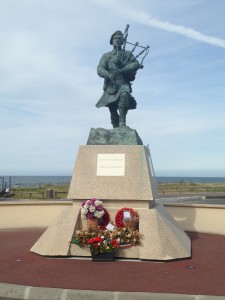 ABERTARRF HOUSE
We've been contacted by a Bill Anderson of the Inverness Civic Trust who made a fascinating discovery, can anyone help? "I am looking for some help, I recently stumbled across a sandstone sundial with the name Alex Fraser of Fairfield and a date of 1729 on it, this is located in the grounds of Abertarff House, Church Street, Inverness. Whilst I know that Alex Fraser 6th of Fairfield was in his third term of office as Provost of Inverness at this time, the question that I would like answered is does anyone know anything about this sundial?"
https://www.facebook.com/permalink.php?id=262863703750932&story_fbid=808152022555428
Now Scan for Friends Now use your QRReader to scan the website code and send to friends

FRASERS in THE WARS of INDEPENDENCE
The Frasers fought for Scotland throughout the War of Independence, Sir Simon Fraser of Oliver and Neidpath, The Patriot was, in his day, rated more important and influential than William Wallace himself. At the Battles of Roslin, 1303, he led the Scots army in no less than three victories in one day. At the Battle of Methven in June 1306, Sir Simon Fraser is said to have saved King Robert's life not once, but three times. After fighting for both William Wallace and Robert the Bruce, he was captured in 1306 and met the same fate as Wallace, at "The Tower". It's also claimed, the head of his brother, John, was also displayed on a spike on London Bridge.
Sir Alexander Fraser attained high office in Scotland as Lord Chamberlain and won the hand of the sister of The Bruce, King of Scots and while he was at The Bruce's side throughout his campaign for the throne, Alexander was at the victory at the Battle of Barra Hill, near Aberdeen with at least one of his brothers, Bruce was ill and at his lowest and this victory could arguably be classed as as crucial as Bannockburn. Also, Sir Alexander Fraser's seal and signature appear on the letter sent to the Pope by the leaders of Scotland, "The Declaration of Arbroath".
Sir Alexander Fraser, was the eldest of the four sons of Sir Andrew Fraser, Sheriff of Sterling, d 1297, all four sons fought and then laid down their lives in Scotland's Two Wars of Independence, Sir Alexander, 1332 Battle of Dupplin, Sir Simon, Sir Andrew and Sir James, Battle of Halidon Hill 1333. We know Sir Alexander and Sir Simon fought at Bannockburn and we like to believe Sir Andrew and Sir James were also there. Sir Andrew's other heritage was his two sons established the roots of what was to become the Clans of Fraser, Sir Alexander was ancestor of the Philorth Line, Clan Fraser and his younger brother Simon ancestor of the Lovat Line, Clan Fraser of Lovat.
THE FORMIDABLE ELYZA FRASER (1734-1814), THE ONLY WOMAN TO INHERIT THE CASTLE IN HER OWN RIGHT
AN ANCIENT mausoleum containing historic memorials to generations of Frasers is in a critical state of decay.The 200-year-old Elyza Fraser Mausoleum, a rare example of work by internationally renowned Jacobite architect James Byres, stands in tiny Cluny graveyard close by Castle Fraser near Sauchen, Aberdeenshire. It was commissioned by Elyza Fraser herself, a characterful spinster who inherited Castle Fraser in 1792 and immediately applied herself to transforming and modernising the castle, gardens, parklands and farms. The mausoleum was completed in 1808, six years before her death.
Now there are fears that her final resting place could be lost if the building does not receive urgent attention.
A group of people including academics, The North of Scotland Preservation Trust, the National Trust for Scotland, Cluny Church of Scotland minister Euan Glen, and concerned local people, have formed the Friends of Miss Elyza Fraser's Mausoleum, designed to implement essential repairs and to highlight the mausoleum's place as part of Clan Fraser's heritage. But before they can apply for funds, they need to find out who owns the building. So far, Aberdeenshire Council, the NTS, the Cowdrays (who bought the estate in 1921, and gifted it to the NTS in 1976) and the Church of Scotland have all confirmed they do not have title, although all are anxious to see the building stabilised.Now the Friends group is urgently appealing to any Fraser descendents, here or abroad, who might have a claim on the building.
If someone comes forward, the Friends hope they can work together to progress a preservation scheme.
The mausoleum is rated of European importance for its architectural, cultural, historic and artistic qualities. But it is held in huge affection locally too and there are hopes that any restoration project will involve community support.Anyone who has an interest in the Friends' project should contact Friends chairman Steve Callaghan on scallaghan@nts.org.uk, tel 07919 693363.
PATCHWORK SQUARES
We entered two Clan squares into the Plantlife project, have a look at the links and find the squares via the Search keywords, also give us a vote if you want (see note and links below).
Plantlife would like to thank you for submitting your 2 squares to the Patchwork Meadow and to let you know that it has arrived safely.
If it is not on the online gallery already we will make sure that it is photographed and uploaded (www.wildflowereurope.org/patches). Please keep watching the website (www.plantlife.org.uk/patchworkmeadow and http://wildflowereurope.org/patchwork-meadow-exhibitions/) for information on Patchwork Meadow exhibitions. hers to learn more about Britain's wild plants! The Patchwork Meadow Team Plantlife Email: patchworkmeadow@plantlife.org.uk